Secretary Naig Presents Agriculture Leader Award to Kurt Simon
Simon honored for building partnerships, funding to support Iowa's conservation efforts
DES MOINES, Iowa (July 9, 2020) – Iowa Secretary of Agriculture Mike Naig honored Kurt Simon with an Agriculture Leader Award today. Simon, who is retiring at the end of the month from his position as Iowa State Conservationist for the United States Department of Agriculture (USDA) Natural Resources Conservation Service (NRCS), received the award for his efforts to support and advance Iowa's soil conservation and water quality initiatives.
"I'm grateful for Kurt's contributions to the state's conservation efforts," said Secretary Naig. "He is a friend and has been a mentor to my team over the past five years. Working together, we have increased funding for soil health and water quality initiatives, expanded watershed projects, engaged more private partners and broken ground on new projects. I am proud of the progress our teams have made and I know that Kurt's leadership helped us be successful."
Simon was appointed the Iowa State Conservationist in October 2015. He immediately collected feedback from his team and conservation partners and leveraged this information to make positive changes within NRCS. Under Simon's leadership, the agency reorganized to better serve Iowans and added a district conservationist to every field office to provide more local, technical resources for farmers and landowners.
During Simon's tenure as State Conservationist, Iowa has benefitted from increased conservation funding through the Environmental Quality Incentives Program (EQIP) and various easement programs. These voluntary programs help farmers install practices that balance agricultural production and environmental health.
A natural relationship-builder, Simon has established strong partnerships with the Iowa Department of Agriculture and Land Stewardship and built coalitions of conservation-focused organizations to advance Iowa's soil health and water quality efforts.
The Iowa Secretary of Agriculture's Leader Award is given to individuals and businesses who help advance Iowa's agriculture community through advocacy, conservation, education, innovation, market development and other significant contributions.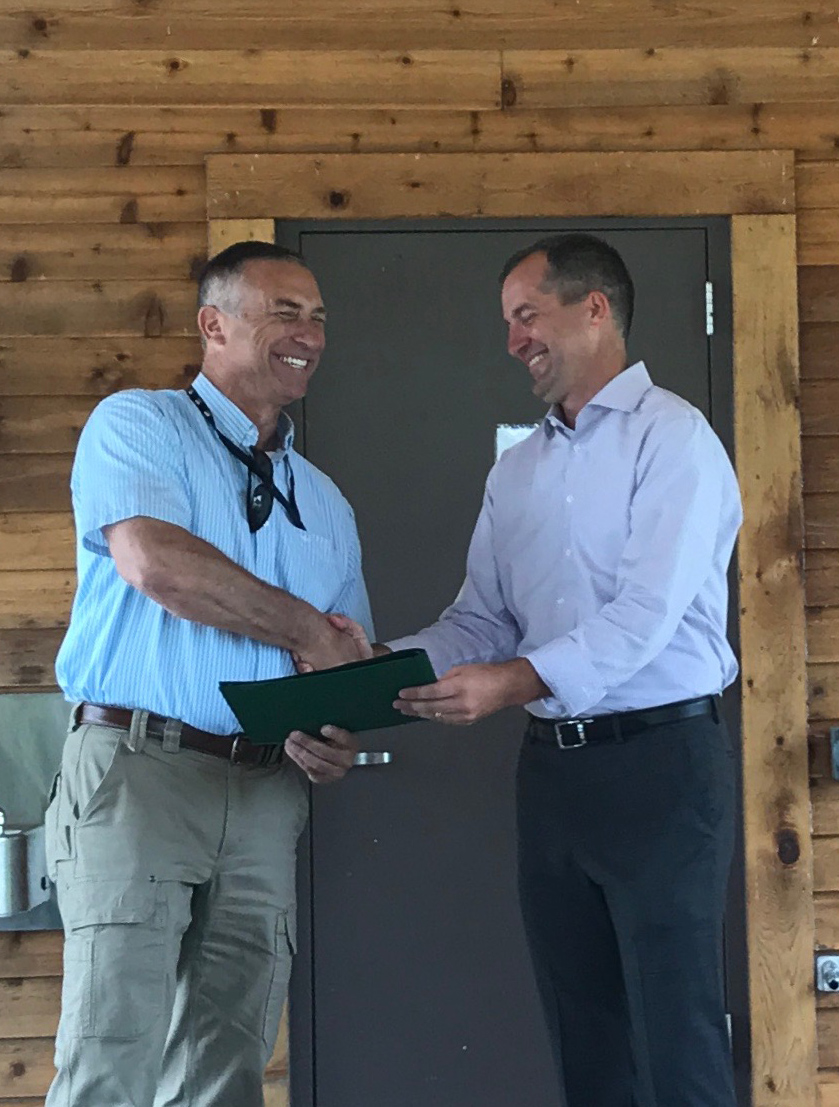 Above: Iowa Secretary of Agriculture Mike Naig presented USDA NRCS State Conservationist Kurt Simon with an Ag Leader Award on July 9, 2020.