Cervid Chronic Wasting Disease Surveillance Identification (CCWDSI) Program
---
The Iowa Department of Agriculture's CWD Surveillance Identification (CCWDSI) Program is a voluntary program approved by USDA APHIS and guided by the USDA CWD Herd Certification Program (HCP) Standards and Iowa Code and Administrative Rules. It requires CWD surveillance, reporting, and testing of farmed cervids 12 months of age and older that die, are slaughtered, or show signs of CWD. Since the start of the CCWDSI Program in 2002, farmed cervid producers have submitted thousands of brain and lymph node samples for CWD testing. If CWD is diagnosed in a farmed cervid, the farm would be quarantined, and the disease eradicated using recommended disease control strategies. The threat of CWD is a serious concern to Iowa and the cervid industry. All practical steps to minimize the spread of disease are taken.
Learn about CWD and the CCWDSI Program with a free, online course!
Access the courses by visiting Introduction to Iowa's Farmed Cervid CWD Program.
Veterinarians and veterinary technicians can earn 2 credits of Continuing Education (CE) for participating and successfully completing the end of course quiz.
For producers taking the course at the request of IDALS, follow the instructions found at the end of the course to download and print a certificate of completion.
All participants can refer to this handout as a summary of the course.
Farm Deer Council
News
Resources
---
Summary of the CCWDSI Program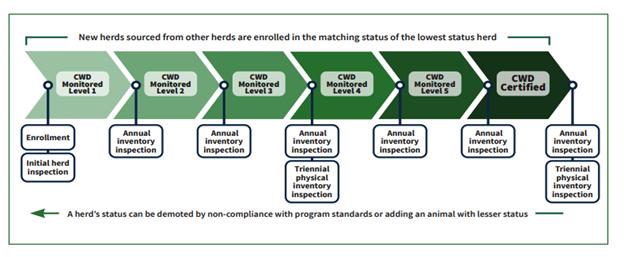 Initial Herd Inspection
Within 12 months of your enrollment date
With an IDALS Veterinarian, State Authorized Veterinarian, or Authorized Federal Personnel
Annual Inventory Inspection
11-13 months after your last inspection
With an IDALS Veterinarian, State Authorized Veterinarian, or Authorized Federal Personnel
Triennial Physical Inventory Inspection
No more than three years after your last complete physical inventory
With a USDA Category II Accredited Veterinarian, IDALS Veterinarian, State Authorized Veterinarian, or Authorized Federal Personnel
Other Program Requirements
• Maintain fencing that is at least 8 feet in height and excludes other cervids from the enclosure (for fences constructed on or after May 23, 2003)
• Ensure two proper forms of identification for each animal over 12 months of age
• Document all changes in herd inventory (e.g., additions, deaths, escapes, sales)
• Keep copies of all CVI's, laboratory submission forms, and CWD test results for at least five years
• Follow animal import and movement requirements
• Communicate and cooperate with IDALS and DNR as needed for escapes and releases (e.g., escapes must be reported to IDALS or USDA APHIS • staff immediately)
• CWD test all animals 12 months of age and older that die, are killed or slaughtered, or are showing signs of CWD
CCWDSI Program Sampling and Testing
At this time the only approved test for routine herd surveillance of farmed cervids is immunohistochemistry (also known as IHC). Fresh and fixed specimens are currently used for testing and include: obex (a specific part of the brain) and medial retropharyngeal lymph nodes (also known as MRPLN). Both tissues are required for CWD testing. Official animal I.D. attached to fresh ear tissue must be included with the samples as well.
Some laboratories accept whole heads submitted by a producer. Other laboratories require whole heads or tissues to be submitted by a veterinarian. In Iowa, USDA Category II Accredited Veterinarians are authorized to collect obex and MRPLN for routine herd surveillance of farmed cervids. It is important to contact the laboratory where samples will be tested before collecting samples. Inform the laboratory that you are requesting IHC testing for farmed cervids.
Handouts
Videos
Laboratory Submission Form
For More Information
CCWDSI Program Standard Operating Procedures
IDALS Program Planner, Dee Clausen
515.281.8236
Helpful Resources
Farmed Cervid Regulations
Statutes (laws) written and enacted by the state legislature to control CWD
Iowa Administrative Code Chapter 64 of Agency 21 (Agriculture)
Regulations (rules) specified by IDALS on how the statutes are managed and enforced
Iowa Administrative Code Chapter 65 of Agency 21 (Agriculture)
Regulations (rules) set by IDALS on intrastate movement requirements of cervidae
Iowa Administrative Code Chapter 66 of Agency 21 (Agriculture)  
Regulations (rules) set by IDALS on pre-entry permits of cervidae
Code of Federal Regulations 9 CFR Parts 55.21-55.25
Federal regulations (rules) regarding the control of CWD in cervidae
Code of Federal Regulations 9 CFR Parts 81.1-81.6
Federal regulations (rules) regarding the interstate movement of cervidae